Fibre Optic Cabling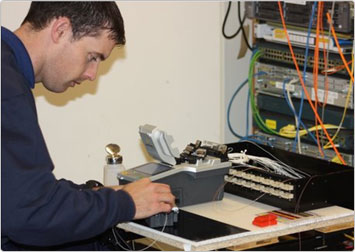 Martin O'Neill Electrical & Data Cabling can provide design, installation, testing, repairs & maintenance services of Fibre Optic systems for your business.
Fibre Optic cabling is used to provide far greater bandwidth for the transfer of data and is also used for backbone connection between localised networking equipment.
If your organisation needs connections beyond the maximum 90m, or if you've got multiple buildings to connect, we will work with you to ensure that the right combination of data and fibre optic cabling gives you the security and the speed that you require for the efficient running of your business.
Having carried out a complete up-Grade of the Fibre Optic System in both University Hospital Galway and Merlin Park Hospitals we can offer that experience to your company and it's data requirements.
Martin O'Neill Electrical provides these services in all areas of Mayo, Sligo, Galway, Clare, Limerick and Dublin.
To enquire about any of our services for your business, or to obtain a quote for upcoming work, call us today in
Galway on 091 705709 or in Dublin on 01 4604419. Alternatively, send us an email.