Fiber Optic Cabling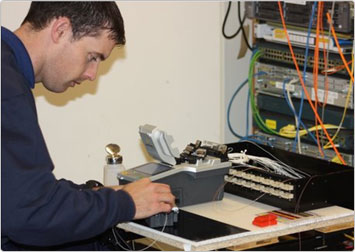 In addition to standard cat 5e & cat 6 structured cabling, the IT team at Martin O'Neill Electrical/Data are highly experienced in working with Fiber Optic Systems.
We can provide design, installation, testing, repairs & maintenance services of Fiber Optic systems for your business - however big or small the project is.
Having carried out complete up-grades of the Fiber Optic Systems in both University Hospital Galway and Merlin Park Hospitals, we can bring that experience to your data cabling project.
If your premises has multiple buildings to connect, we will work with you to ensure that the right combination of data and fiber optic cabling gives the security and speed required for your business.
Martin O'Neill Data can provide these services to any commercial or public entity NATIONWIDE.
To enquire about any of our services for your business, or to obtain a quote for upcoming work, call us today in Galway on 091 700919. Alternatively, send us an email.