Festive Lighting For Commercial Premises
Festive Lighting for commercial premises is another of the many electrical services offered by Martin O'Neill Electrical/Data. From hospitals to shopping centres, city centres to hotels, we can help you to make your business or workplace suitably festive for the coming Christmas season.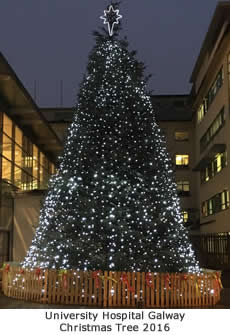 We carry out work with city councils for street lighting and also work on outdoor Christmas Tree Lights such as the one in University Hospital Galway on an annual basis.
The images displayed are a sample of the Christmas lights located around Galway City for Christmas 2016. We worked with the Galway Retail Park, Medtronic, University Hospital Galway, and Galway City Council and are happy to talk to you about the needs of your organisation for the upcoming Festive period.
With a 24 hour support service provided, electricians are constantly available for any maintenance needed or in the case of an electrical emergency.
To enquire about any of our services for your business, or to obtain a quote for upcoming work, call us today in Galway on 091 700919 or in Dublin on 01 4604419.
Alternatively, you can contact us via email.
Recent Project: Galway Retail Park 2016