Emergency Lighting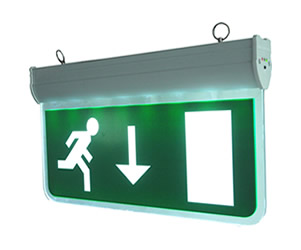 Emergency Lighting is the first route of escape in the event of a fire or emergency in your establishment. Emergency Lighting illuminates the safest way to the nearest exit, and is a legal requirement for all buildings open to the public.
Maintenance of Emergency Lighting Systems is also a legal requirement. Inspections should be carried out 4 times per year in each premises. This includes three quarterly inspections and one annual inspection. If not maintained, failure of these systems could lead to an accident, thus ensuring prosecution of the premises owner or employer due to negligence.
Here at Martin O'Neill Electrical, we have 30 years of experience in the installation, connection and commissioning of Emergency Lighting Systems and are fully qualified to carry out Emergency Lighting Certification. We have installed these lighting systems in buildings of all sizes, ranging from Retail Shops and Offices to Hotels and Restaurants, to the University Hospital Galway and National University of Ireland Galway.
We carry out all our installations in accordance with the Code of practice IS. 3217 2008 and are fully qualified to certify emergency installations.
Martin O'Neill Electrical can provide your establishment with:
Periodic Inspection Certificate for Emergency Lighting

Periodic Inspection Report for an Electrical Installation
There are three main types of Emergency Lighting systems which include:
Non-Maintained system (this is where the Emergency Light/Lamp operates when the power fails.

Maintained system (is the same as the non-maintained but the Lamp is on at all Times)

Sustained system (with this system there are two lamps one maintained Lamp and the other non-maintained Lamp.When the power fails the non-maintained Lamp is activated and the maintained Lamp is deactivated).
To enquire about any of our services for your business, or to obtain a quote for upcoming work,
call us today on 091 700919 or send us an email.